DISINFECT • DEODORIZE • PROTECT
GTech Clean™ is an EPA approved one-step surface disinfectant and deodorizer that kills SARS-CoV-2 (COVID-19) and 99.9% of viruses, bacteria, fungi and PROTECTS FOR UP TO 7 DAYS.* 
SAFE:  Non-toxic, non-flammable, no ammonia, no bleach, no alcohol, and skin-friendly.  Safe for all surfaces.
SIMPLE & FAST:  Ready-to-use - just spray on and let dry. No dilution. No rinsing. No wiping needed.  Kills fast. Dries fast.
SAVES TIME & MONEY: Fast spraying application. High coverage with minimal product. Kills pathogens for up to 7 days!*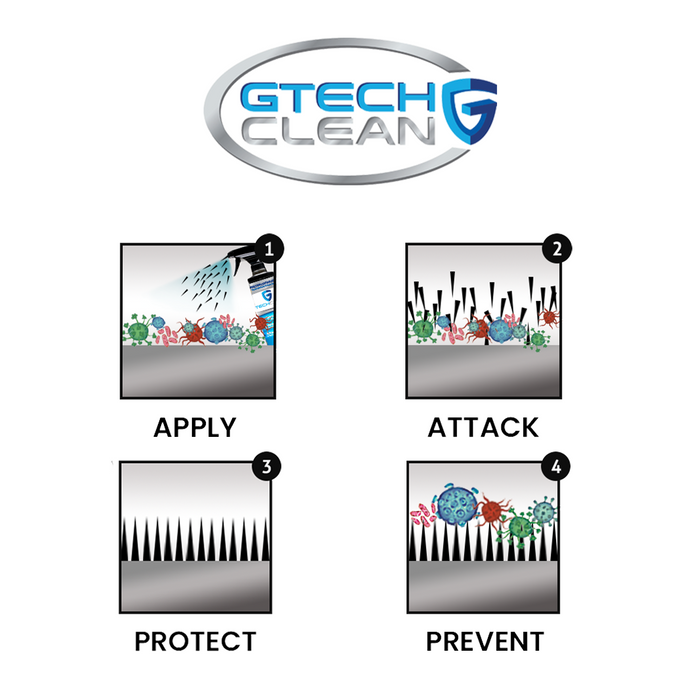 EFFECTIVE • SAFE • EASY
GTech Clean™ ready-to-use antimicrobial spray is an EPA approved (Reg. No. 6836-152-92623), one-step solution to quickly, easily, and safely disinfect and deodorize all surfaces, rooms and vehicles. Long lasting formula leaves a microscopic barrier of protection that continues to kill viruses and bacteria for up to 7 days!*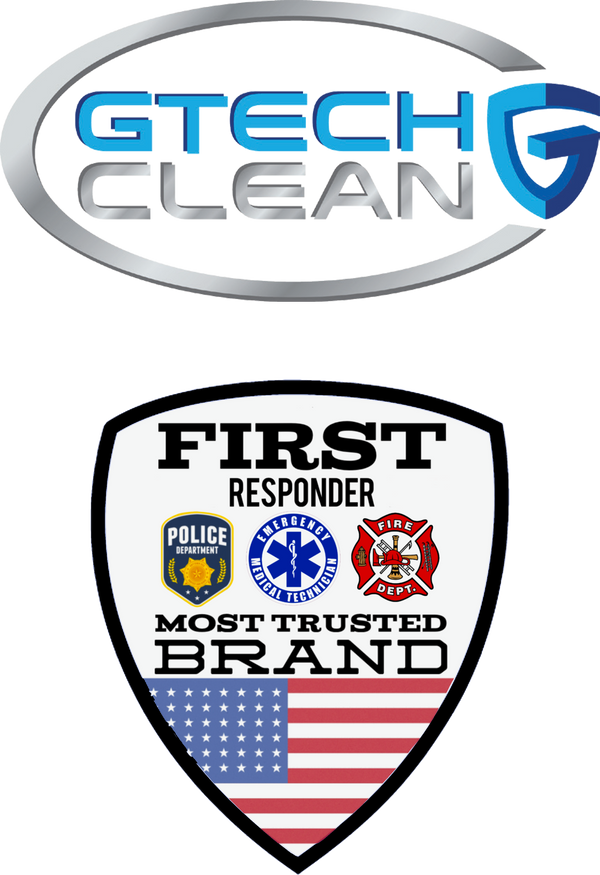 Safe To Use

Non-toxic formula is skin friendly and hypoallergenic. Non-flammable. No ammonia. No bleach. No alcohol. No VOC's. GTech Clean will NOT cause allergic reactions or harmful skin irritations.

Effective & Long-Lasting

EPA approved to kill 99.9% of viruses and bacteria including SARS-CoV-2 (COVID-19), Influenza, Hepatitis, Herpes, HIV-1, Staph, MRSA, E.Coli, Mildew, Mold and many more. Proprietary formula Immediately and continuously for up to 7 days*!

Simple To Use

Spray or fog on and let dry. No dilution. No wiping needed. No rinsing. Dries fast. Leaves no residue.  Using the fogger, a vehicle can be disinfected in under 60 seconds and a large room in just minutes!  The spray bottle is used for clothing, equipment and field applications, including gloves, PPE, handcuffs, door handles, and all other safety equipment.

Cost Efficient

GTech's highly efficient formula saves money. Only a thin layer is necessary to be effective. Most vehicles can be disinfected at a cost of about 50¢ and just a few dollars for most rooms. Microscopic disinfecting barrier adheres to surfaces and lasts up to 7 days*.
WATCH THE FIRST RESPONDER DEMO
GTech Clean is used by fire departments, EMTs, law enforcement agencies, correctional facilities, and a wide range of businesses to safely and quickly disinfect and deodorize rooms, vehicles, gear and uniforms.
PROTECTING ALL BUSINESSES AND ORGANIZATIONS
GTech products have been adopted by many leading organizations to disinfect, deodorize and protect their rooms, common areas and vehicles.
Medical • Dental• Senior Living • Schools • Hospitals • Veterinarians • Warehouses • Transportation • Construction • Hospitality • Retail • Restaurants • Health Clubs • Car Dealerships • Salons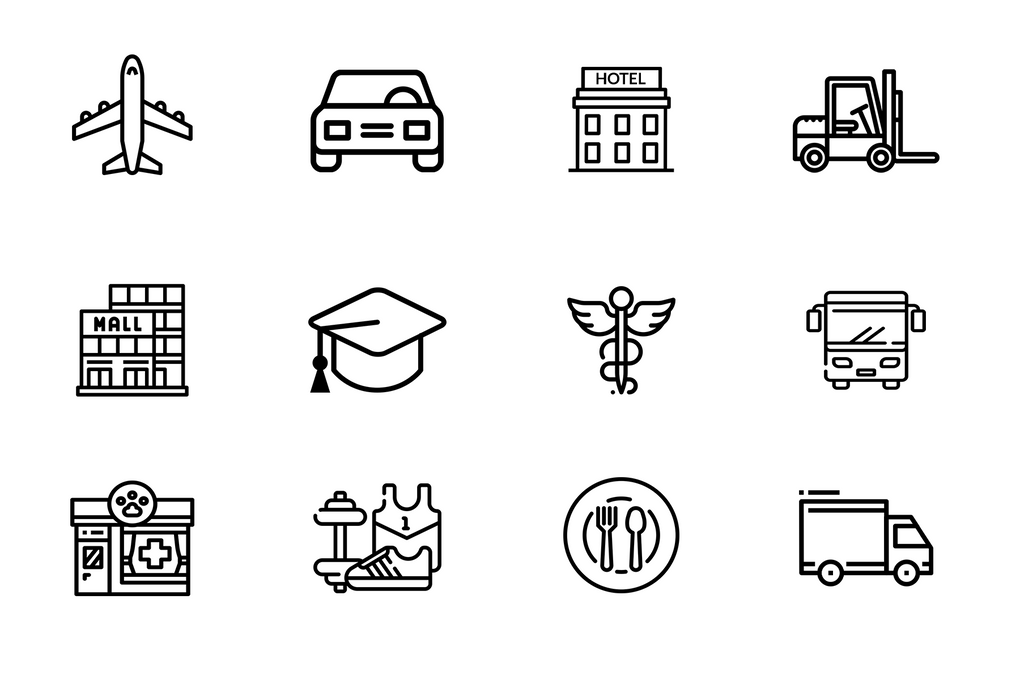 7 DAYS OF PROTECTION!
GTech Cleans kills SARS-CoV-2 (COVID-19) and 99.9% of viruses, bacteria, and fungi and keeps protecting for up to 7 days!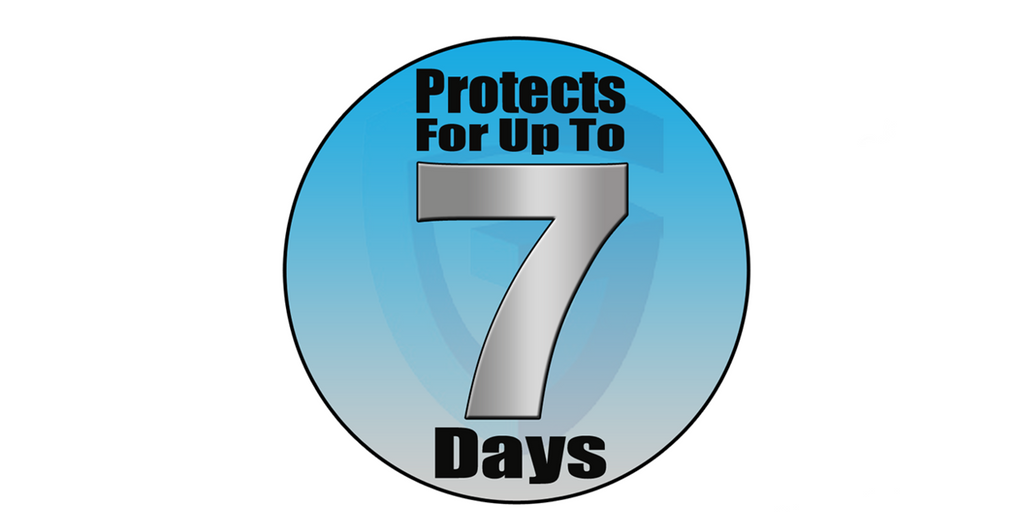 Protecting Medical Offices
GTech products keep the patients and team at Gale Ranch Dental safe from viruses and bacteria.
Protecting Restaurants
The world-renowned House of Prime Rib restaurant in San Francisco, CA adopts GTech Clean and GTech Armour to keep patrons safe.
Protecting Car Dealerships
GTech Clean is being used by car dealships across the country to disinfect vehicles after service, after purchase, and as anytime customers want a fast and easy full vehicle disinfecting.
Protecting Resorts
We are proud to welcome Mamita's Beach Resort in Playa del Carmen to the list of businesses using GTech to protect their customers and employees.
Introducing GTech Armour™ Hand Sanitizer
GTech Armour sanitizer spray is formulated for everyday use on hands and skin to kill germs without drying or cracking skin. It provides continuous protection for 2-3 hours after application. Spray it on BEFORE and after making contact with people and/or surfaces. It's also an excellent solution when you're on-the-go for disinfecting your mobile phone, face mask and other surfaces.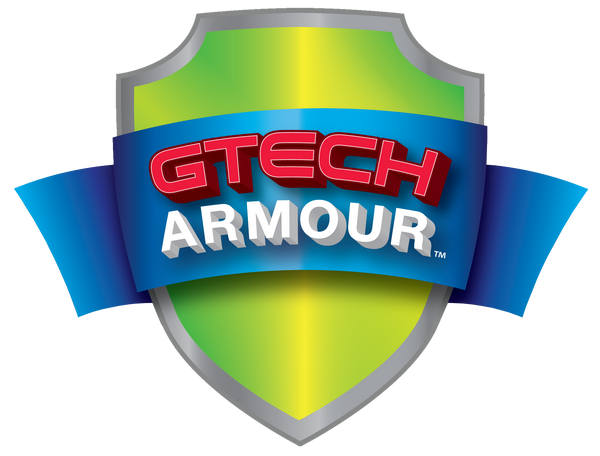 Designed for Everyday Use

Kills 99.99% of Germs in Seconds

Moisturizing Formula

2 -3 Hour Antimicrobial Protection
Buy GTech Armour™
The long last alcohol-free hand sanitizer trusted by first responders.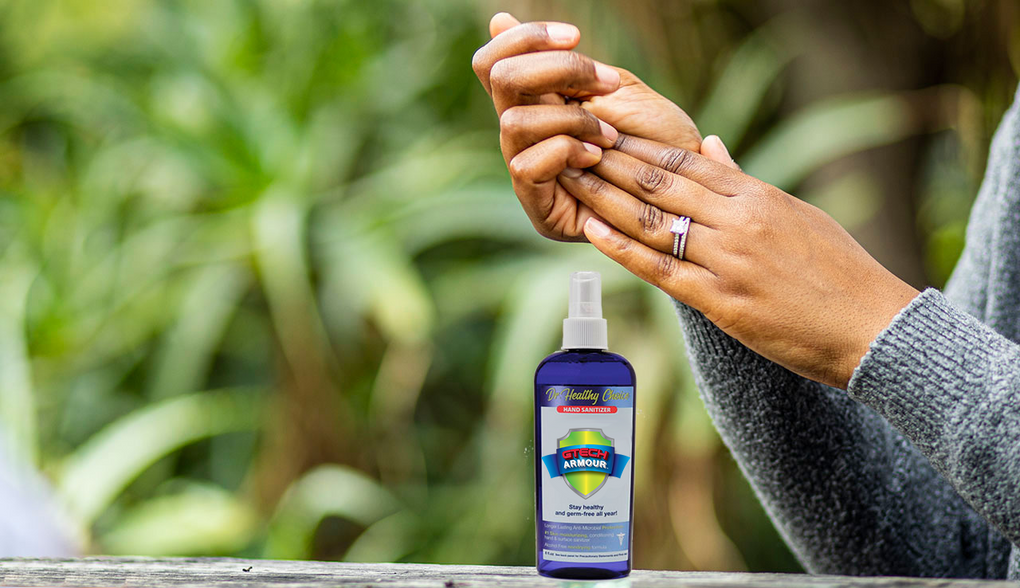 GTech Wash™ Laundry Detergent
Antimicrobial laundry detergent specially formulated to clean, remove stains, prevent fading, neutralize bacteria, and restore breathability to high performance and athletic fabrics. GTech Wash removes odor causing bacteria, germs, residue and oils to keep technical fabrics, uniforms and apparel looking and working like new.  Ideal for inhibiting mold and mildew in front load washing machines.
Concentrated formula uses less and saves more!  Used by athletes, first responders, medical practitioners, health clubs, salons, and hospitality.  Also great for washing reusable facemasks.  Made in the USA.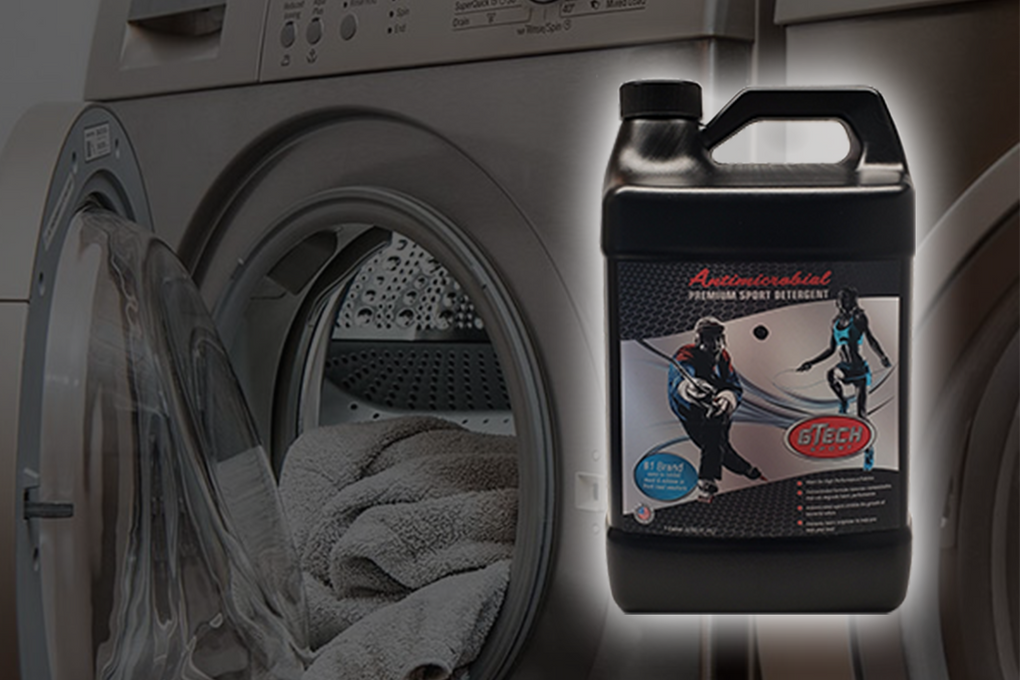 TESTIMONIALS
Game Changer!! This is what comes to mind when I think of GTech.  Having been in law enforcement for over 30 years I've watched our profession's fears of HIV, MRSA, Staph, and other infections over time.  Covid-19 is the most dangerous threat to law enforcement that I have ever seen; an invisible enemy that is non-discriminatory as to who its victims will be.  GTech protects against the bacterias and viruses we have feared from the past to the present. GTech Clean and Armour helps to protect first responders both at work and from bringing anything home to their loved ones.
GTech provides us with the best protection for first responders who are on the frontlines of exposure to Covid-19.  When people need help they call 911.  When first responders need help against Covid-19, they call GTech Protection!
Our organization provides self-defense and fitness training to thousands of people around the globe.  Because of this, we wanted to find a product that keeps our training centers free of viruses and bacteria for our students and instructors, and a product that would be safe during and after we apply it.  After some trial and error, we found GTech, and now use it at all our training centers, and recommend it to our affiliates throughout the U.S.  Our front desk personnel can easily and quickly disinfect all areas of the space, and the best part, GTech's protection lasts for days.  Even more, our students and instructors love the smell, and the fact that it's safe for skin contact; this is especially important for mat training. We trust and rely on GTech, and we wouldn't use anything else to help keep our people safe.
Coming back to work after the COVID-19 shut down, it was important for me to ensure my hair salon was disinfected for our clientele and stylists.  After doing extensive research I found GTech, which I learned is used by first responders who are on the front lines. It's so simple to use, I'm able to personally disinfect my entire salon in less than 10 minutes and feel confident that it remains germ-free for days.  We use the spray bottle to sanitize and deodorize our capes and smocks, and spray down the door handles and chairs during the day.  The smell is great, and our clients love that we're providing them with this level of protection.
GTech is amazing! We use it at our pediatric dental practice. It is a great product to spray on our door handles, toys, and chairs to kill all the germs that our patients leave behind. We of course love our kids but sometimes they can leave behind little Minon germs that we have to get rid of. The spray also has a nice scent. We recommend GTech for any professional office that cares about their patients.