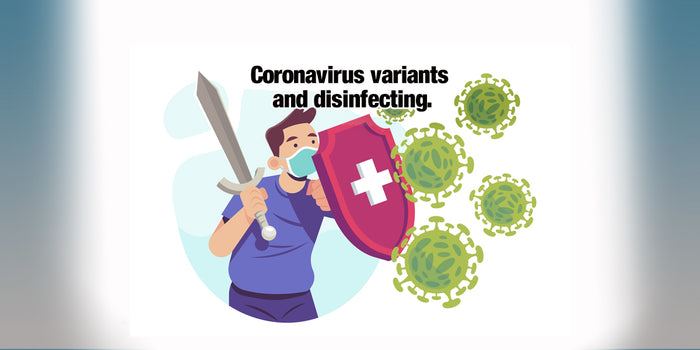 The surprising speed at which the recent Omicron variant of SARS-CoV-2 (COVID-19) has swept through the population of the U.S. and the world has really reset the bar in terms of thinking about staying protected. It seems that the Delta variant was merely a preamble to what could be the "next worst" thing in the ongoing pandemic and that the Omicron variant has taken things to a new level. The only relatively good thing about Omicron is that the world is seeing fewer hospitalizations and the threat to a strain and overload on hospitals and emergency rooms is slightly lower. There are steps that we can all take, and should all be taking, to ensure that we stay safe from the virus and that we keep others safe. 
SARS-CoV-2 (COVID-19) is a virus and a virus is a pathogen. A pathogen is an organism that causes a disease. In addition to viruses, pathogens include bacteria, fungi, protozoa, and parasitic worms. Pathogen transmission can occur in many different ways and sometimes the process or means of transmission is unique to a specific pathogen. What we've come to learn is that the SARS-CoV-2 (COVID-19) is easily transmitted from one person to another by close contact, by particles in the air, or by contact on surfaces that aren't disinfected. These surfaces can be called "high frequency community touchpoints", or surfaces that different people frequently touch. Ultimately SARS-CoV-2 (COVID-19) is not a very strong virus in and of itself, it can be destroyed relatively easily but the speed at which people can contract the virus makes it very tricky and dangerous. 
Coronavirus is it's own pathogen and what we are seeing in SARS-CoV-2 (COVID-19) and it's variants like Delta and Omicron is mutation of the virus. It's an organism so it basically evolves and looks for ways to survive. GTech Clean is EPA approved and kills 99.9% of viruses and bacteria on contact. That includes all Coronavirus like SARS-CoV-2 (COVID-19) and it's variants. GTech Clean is also specially formulated to leave a microscopic layer of protection on any surface that it is applied to and this layer of protection continues to cill viruses and bacteria for up to 7 days. 
You can have the very best protection against Coronavirus, SARS-CoV-2 (COVID-19) and it's variants by using GTech Clean as your go-to disinfectant spray. GTech Clean is all natural, it's non flammable, it contains no alcohol, no bleach and no VoC's, and it's designed to give long-lasting protection. If you think about cleaning and disinfecting with other disinfectant sprays that are alcohol based or heavily based on other chemicals, their disinfecting power mostly comes from the initial contact with whatever surface they are applied to. Once the alcohol dries up, the disinfecting power is gone and there is no more protection. That's not the case with GTech Clean. 
This is important because of the increased urgency for developing and maintaining regular disinfecting and cleaning procedures in the home and business and other personal spaces like a vehicle, or even clothing. By now you probably have some sort of regular disinfecting and cleaning plan in your home and at work. If you don't, you should. Taking the time to have a plan about disinfecting is the only way to make sure that you are being consistent. GTech Clean is the best disinfectant spray to use for this sort of cleaning protocol because it's long lasting protection also means that you can spend less time cleaning and less money on cleaning supplies. That equals efficiency. 
GTech Clean is incredibly simple to use. It is applied by spraying it on surfaces and letting it dry. That's all. It can also be sprayed onto a surface and then distributed around that surface with a paper towel, cloth, cloth mop, etc. Distributing GTech Clean on a surface with a mop or paper towel isn't doesn't mean rubbing or scrubbing to drying out the disinfectant spray, the idea is to give the surface a good coating. When you consider GTech's long lasting power and ease of use, it's clear to see that GTech Clean is the best disinfectant spray. 
Efficiency, power, and simplicity all go hand in hand when you use GTech Clean. However GTech Clean is really the best disinfectant spray because, when applied using our recommended protocols and a ULV fogger like the NuPower Trigger Control Sprayer, you can disinfect a 1000sq ft room in minutes. GTech Clean comes ready to use in bulk disinfectant size 5 gallon containers, there's no complicated diluting process involved. This keeps product costs low because using GTech Clean and disinfectant fogger or sprayer to disinfect large spaces, like a 1000sq ft room, can cost less than a dollar per application. Using GTech Clean and a disinfectant fogger or sprayer to disinfect a vehicle can cost even less, and provide the best protection against viruses and bacteria including SARS-CoV-2 (COVID-19).
In addition to having a plan for regularly disinfecting your home or workplace, it's important to start paying more attention to the high frequency community touch points that you come in to contact with every day. Awareness and planning will help you stay safe from SARS-CoV-2 (COVID-19) and it's variants. Don't touch things like door handles, elevator buttons, railings, desktops, etc if you aren't certain that they have been disinfected. An addition layer of protection can come from GTech Armour hand sanitizer. 
GTech Armour is made with a formula that is similar to GTech Clean. GTech Armour's all natural, skin protecting, formula is the best hand sanitizer for frequent use because it strengthens skin and it kills 99.99% of germs on contact. Once applied, GTech Armour also leaves a microscopic layer of protection on skin, which continues to kill viruses and bacteria for hours. GTech Armour is the best hand sanitizer because it provides long-lasting protection, not just germ killing power on contact. Even better, GTech Armour comes in various sized containers that are easy to carry in a purse, gym bag, or backpack and it can be used as a surface disinfectant while you are on the go. If you do come across some sort of high frequency community touchpoint and you aren't certain that it's been disinfected, you can use GTech Armour on that surface to kill 99.99% of germs that might be on it. 
The GTech line of products can give you the best protection against the transmission of viruses and bacteria on high frequency community touch points but you have to take some steps in terms of planning and awareness in order to make sure you are staying completely disinfected and protected. Another line of defense against the spread of SARS-CoV-2 (COVID-19) and it's variants is to get a vaccine and a booster. The vaccine has sparked all sorts of controversy especially since we are seeing "breakthrough cases" of people contracting COVID-19 even though they've been vaccinated. Though it's still possible to contract COVID-19 after being vaccinated the severity of the symptoms in vaccinated people is much less and, overall, there's a much smaller chance of being hospitalized. Keep in mind that the strain on hospitals and emergency rooms and the threat of overloading those services is really the key factor in determining levels of COVID related restrictions and lockdowns.
The GTech line of products will help keep you safe. They are the most powerful, the safest, the simplest disinfecting and hand sanitizing products you can get. Take the steps to keep yourself, your family, your business, employees, coworkers etc. safe by planning consistent disinfection with GTech products and by being aware of the risks for pathogen transmission whenever you go. 
Check out the entire line of GTech Products by clicking here. Get the best disinfectant spray. Get the best hand sanitizer for everyday use. Get the best disinfectant foggers and sprayers right here! Use the coupon code GTECHVIP at checkout to save an additional 5% off of your entire order!